A B C D E F G H I J K L M N O P Q R S T U V W X Y Z SPLITS/COMP
---
promoted releases in band alphabetical order
features 100 Releases
Latest promoted stuff: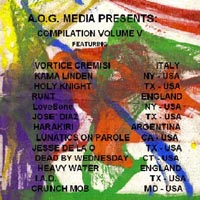 A.O.G MEDIA Compilation Volume V
click on cover to see infos
In this website you've got the chance to get a massive exposure for your band's CD or the latest release of your label!! some bands have already collaborated with us to complement their promotional campaigns and they're all very satisfied so far.
our principal partners areTHE NICKY NEYAH INTERNATIONAL SUPPORT and BRUTALISM , the biggest portals in the world devoted to extreme music (with Thousands of visits per week, guarantees what your band won't pass unnoticed by anyone!!) ,so the world-coverage is guaranteed.
©All rights reserved, Lelahel website® 2006