Last update : 18th of January 2006
Latest Promoted stuff :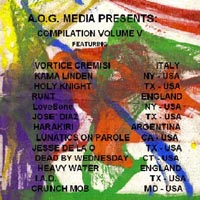 Artist: A.O.G MEDIA COMPILATION
Title: Volume V
Label: A.O.G MEDIA
Catalog No: /
A.O.G. MEDIA Compilation cdr Volume 5 featuring bands from the US, UK, Argentina, and Italy. (13 bands 21 songs) The music is commercial pop rock, classic rock-n-roll and hard rock, punk, hardcore and metal.. A.O.G. Media is still soliciting bands from around the world in order to get you the best exposure for you money, so feel free to send your material, they are preparing the volume VI soon!!- More...
---
Latest Arabian Metal band:
Latest Arabian Metal Review:

Artist: Tristmoon
Location: Beirut, Lebanon
Year of formation: 2004
Tristmoon was formed in 2004 By its members, we had several music changes but finaly we have found ourselves capable of creating our own genre Melancholic/Melodic Metal....- More...

SLUMPARK CORRECTIONAL: Dreaming Underneath Destruction Reviewed by Apokalypse - More ...

Latest Arabian Metal Interview:

An interview with Empyrean a Progressive Metal band from UAE - More ...
---
Latest Arabian Metal Live report:

AN EVENING TO REMEMBER : During a Symphonic Show that both Olive and Midnightblue members attended, a crazy idea leapt to Feras (the guitar player of Olive) he had an idea revolved around the potential of organizing a participatory show consists Olive and Midnightblue,...A few days later Abd-al lateef (the guitar player of Midnightblue) talked with Aram (the drummer of Nuclear dawn) and they accepted to add Nuclear Dawn as a guest band in this participatory show... - More ...
---
Latest Label report :
Latest Arabian Metal Article:

FORENSICK MUSIC
Interview of Martin Belobrad the Label Manager of Forensick Music an underground Death Metal label from Slovakia :"Yes, it is not very easy job to run label. We use to invest a lot of money...we have to pay royalities to our bands, pay for postage when we send promos, advertising... it is really a lot" More...

CONSIDERED AS AUDIO ALIENS : "These lasts have no right to exist or open except for a " supposedly" militant poetry or when it's to be a place for political meetings, but never ever for a cultural or art promotion.This tendency or "politic" contributes only to the costly facilities attrition of which they are endowed, and so, leaving them to the deterioration. "More ...
---
Latest Artwork Artist :

Latest Gallery :

VISUAL DARKNESS
Mike Hrubovcak, an artist from the U.S. around New York / Philadelphia area. Also from the bands DIVINE RAPTURE , AZURE EMOTE and others who runs a digital Illustration and design business through his website VISUALDARKNESS - More ...

JACQUES NOIRET : 12 realizations - More ...
---
Latest Photo Album:

Discovery of the Month:

JINN
Promo and Live Pics - More ...

GRANDMA from Argentina playing Extreme Brutal Grind - More ...
©All rights reserved, Lelahel website® 2006